Author, speaker, evangelist and a relentless customer advocate, we all know that Pat knows print.
Hear what she has to say about the current state of the industry, where she thinks customers and vendors should focus in 2021, and a few fun facts you didn't know about her in the Ricoh Industry Speed round!
Ready….set…..go!
Q: Offset or Digital?
A: Hybrid.
I love both technologies, but when you merge them, you can do some really amazing projects. Digital continues to impress me as there are more color and enhancement options that are available and in progress, but I'm sticking with hybrid.
Q: Web-to-Print—Homegrown or Vendor?
A: VENDOR!
Please stop building your own web-to-print systems. When you build it yourself, you take on the burden of maintaining it, burning through resources and potentially missing out on key solution options. If you buy, please research your vendor and then make someone in your business accountable for keeping that solution current so that you get the biggest bang for your buck!
Q: Fulfillment—in-house or outsource?
A: Depends.
In-house fulfillment can be an excellent solution if you have the room, the infrastructure and if it is part of your overall business model. However, it carries a burden that might not be worth it. In general, I'm an outsource fan. Let people do what they do best, including you.
Q: Marketing Service Provider—Still a thing?
A: Kind of.
I have to admit that I don't love the term. There are some print shops that have built the IT infrastructure and know how to be a full-service print and digital agency, but they are rare.
Q: Who is the one to watch?
A: Every web-to-print offering.
Pay attention to what is out there and how vendors are innovating. There are some innovative, automated options out there and you don't want to miss them which may happen if you're having to use your own resources to build and maintain your own.
Q: Lights out workflow – fact or fiction?
A: How much money do you have?
It can and does work, but there is a CAPEX to make it work. For me, 'lights out' makes it harder to add the next new product or options. I like automation, but not to an extreme.
Q: What is the one segment you would bet on?
A: PACKAGING!
Big, little, folding carton, corrugated, primary, secondary!
Q: What is your favorite substrate?
A: Anything from Crown van Gelder.
Q: In-plant—Still important?
A: Yes! Yes! Yes!
Q: Inline or nearline?
A: Nearline for flexibility.
Q: Print or digital books?
A: Print. I love the smell of paper books. I always have one in progress, along with a few digital titles.
Q: One word to describe print in 2021?
A: Enhanced. Be ready for it!
And….just for fun:
Q: Zeppelin or Stones?
A: The Monkees
Q: Chips or Chocolate?
A: Popcorn.
Q: Half full or half empty?
A: Half full and always refilling.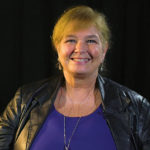 Meet the Author
Pat's experience in printing and publications coordination stretches back 40+ years. She currently serves as a Ricoh consultant, advocating for customers in the areas of print workflow, business management, portfolio messaging and omnichannel customer communication. Pat is a current and former business owner, and so understands the challenges faced by small and medium-sized businesses. She works with Ricoh clients to perform triage on their business and print workflow needs. In addition to degrees from the University of New Mexico and University of Phoenix, Pat holds numerous certifications from various organizations. For Xplor International, she is Master Electronic Document Professional and Master EDP—Business Development Certified. Her Idealliance certifications include BrandO Professional, Color Management Professional, and CMP—Digital. Pat is also certified as a Mail Design Professional by the US Postal Service and as a Social Media Professional by the Direct Marketing Association. Pat is well-regarded in the print industry, recognizable for her podcast PrintSampleTV and for many years of public speaking. Much of this experience comes from a decade of combined experience working as a product evangelist for HP and Eastman Kodak.
Join Ricoh experts online and discover new ways to create efficiencies, reduce costs and improve profitability through our software and solutions—visit our entire webinar series to help grow your business.
Subscribe to our Newsletter